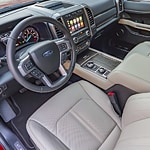 You'll quickly and powerfully be able to get where you need to be in the 2020 Ford Expedition thanks to a 3.5-Liter V-6 engine and 10-speed automatic transmission.
A recently updated suspension provides a very smooth ride, and you can tow an impressive amount of weight behind your vehicle. There is a 9300 pound towing capacity that you can enjoy on your travels and adventures. This is the highest towing capacity around for this style of vehicle.
Welford Harris Inc. encourages you to take the Expedition out for a test drive. You'll be able to experience just how well this vehicle handles itself. While it has a lot of power, it maneuvers very well around tight corners and in parking spots. Don't forget about fuel efficiency. The Expedition gets 25 miles per gallon for any highway driving that you do, and 17 miles per gallon makes up the city average.