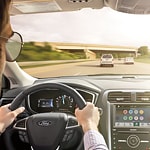 If you are looking for an affordable mid-size sedan with excellent performance, consider the popular Ford Fusion. This top-selling sedan offers several performance features that make it stand out from the competition. Here's a look at two performance features now available.
The Fusion offers its Electronic Power Assisted Steering system to help you have a better feel for the roads at higher speeds and give you the response that is usually reserved for more expensive performance sedans. Also, the Fusion is available with Intelligent All-Wheel Drive. This system is designed to shut off the all-wheel-drive mode when it is not needed to reduce drag.
Get into the Ford Fusion today and see how it drives. We are now offering test drives at Welford Harris Inc. in Siler City. You'll get a great deal on the brand new Ford Fusion of your choice.